Coating Pan
OSA Type Coating Pan has less trouble and a sanitary structure with high productivity.
Coating Pan is a welded structure made of stainless steel finished to be high quality.
Models in various size including one for experimental use are available.
A special pan and a large size are customized.
An internal adjuster plate is also mounted.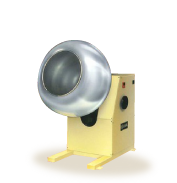 Model OCP-100
Features of Coating Pan
Suitable for use in production of confections and medicines.
Optimal to use in sugar coating and chocolate coating.
Accurate coating performance without uneven coating
Easy cleaning (easy maintenance)
Low noise level.
Freely selectable rotation of pan by an inverter.

Model OCP-M5
Model OCP-100 100kg
Model-specific ability list ( batch capacity )
※Specifications are subject to change without notice.
Automatic Chocolate Spray Plant
A manual work for supplying chocolate to a coating pan has been automated by a chocolate spray device which sprays chocolate automatically onto a coating pan.

You can see the catalog of our products.
(In electronic catalog is seeing with the personal computer , seeing with the smart phone will be available for inspection at the PDF)