Continuous Fondant Beater H-3/H-7/H-30
This is a high-speed seprator which can remove foreign matters from among such higly viscous fluids as chocolate and the like.
This Fondant Beater produces high quality fondant by carrying out three fundamental processes of fondant production, namely, mixing sufficient air into, and fully cooling and agitating syrup.
Feed the syrup into the upper hopper (of Models H-3 and H-7) and operate the cock to feed the syrup into the jacketed cooling cylinder of the fondant beater without cooling it in advance. Then, a screw provided with special mixing blades rotates to automatically turn the syrup into fondant in a state of white cream.
The internal cylinder of the jacketed cooling cylinder is made of stainless steel, and the screw provided with special mixing blades is made of special gun metal. The upper syrup hopper (of Models H-3 and H-7) are made of stainless steel, assuring hygienic operation.
Since the operation is carried out continuously, no cleaning of the machine is required after each process is completed.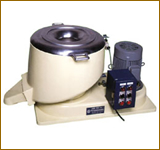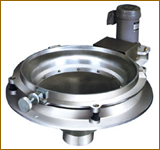 Features of the Fondant Beater
Heated syrup is immediately changed into fondant.
Excellent, soft fondant is always produced to enhance the quality of your products.
Fondant may be used immediately after it is produced.
Installation space is minimized.
The fondant beaters ensure cost-down and improve productivity.
Individual specifications and capabilities List
| Model | H-3 | H-7 | H-30 |
| --- | --- | --- | --- |
| Daily production Capacity | 350kg/8hours | 800~1,000kg/8hours | 2,500~4,000kg/8hours |
※Specifications are subject to change without notice.
You can see the catalog of our products.
(In electronic catalog is seeing with the personal computer , seeing with the smart phone will be available for inspection at the PDF)