Quick Shell
As a manufacturer dedicated to chocolate machines, OSA Machinery developed new shell chocolate based on its long years' experience and highly creative technology.
Quick Shell Chocolate is a (innovative) manufacturing method that has changed the conventional chocolate processing method.
This method produces a variety of shell products that has never been produced, resulting in significant change in the chocolate manufacture.
This technology limitlessly extends the range of shell chocolate products from small shell products to large shell products, for example animal-shaped or doll-shaped ones, hollow or solid Easter eggs, etc.
Quick Shell's novel technology provides a number of merits compared with those of conventional shell products as below.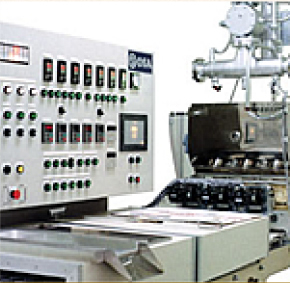 Special Depositor
Since 1932, OSA Machinery has concentrated its effort on the production of chocolate manufacturing machines.
Features of the chocolate Quick Shell
Products in the uniform shape can be obtained regardless of shell thickness.
Even when chocolate having less fat and oil and the nature close to chocolate mass is used, shells can be perfectly formed.
Even when material containing granular constituents is used chocolate shells can be formed.
Nothing is influenced by change in the viscosity of chocolate caused by imperfectly tempered chocolate material.
The same products in respect of weight and thickness of shells can be obtained.
No excessive or insufficient filling of cream or other fillings into shells occurs because of even shell thickness.
Standard Mold Size
| | |
| --- | --- |
| QS-275 | 275mm×205mm |
| QS-400 | 400mm×205mm |
| QS-425 | 425mm×275mm |
| QS-600 | 600mm×275mm |
※Specifications are subject to change without notice.
You can see the catalog of our products.
(In electronic catalog is seeing with the personal computer , seeing with the smart phone will be available for inspection at the PDF)